Other Books by Madeleine

Our Last Dance ... A Love Story
In writing Our Last Dance, Madeleine Zeldin wanted to honour her beloved late husband, Gerald's desire to have his story told, so that others may be helped.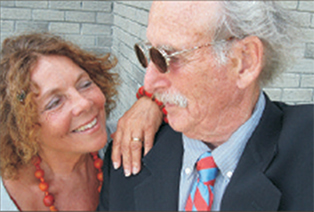 Madeleine shows Gerald, not just as a cancer patient, but as a person...the internationally renowned artist, the professor, the mentor, the husband and father...the person who was passionate about life and who was loved passionately.
In presenting a portrait of their 'soul-mate' relationship, you experience their joy, along with their intense sorrows of battling with terminal illness, death and grieving.
She gives the reader an insight into the importance of advocacy, with solutions to problems encountered with the medical system, throughout their seven year journey of caring for Gerald, the love of her life, during their battle with cancer.
During her readings around the world of Our Last Dance ... A Love Story ... Madeleine helped many others on their journey of grief.
Included are comments from Dr. Brian Goldman, host of National Radio CBC program White Coat, Black Art ...
"There are people who have the courage to confront life's difficulties and turn a curse into a blessing. Madeleine and Gerald Zeldin's story is one of these." - Dr. Bernie Siegel MD, author of A Book of Miracles and Faith, Hope and Healing.

Madeleine has had many reading engagements for Our Last Dance ... A Love Story while on volunteer services in many countries, including Philippines, Ecuador, Mexico, Canada ... and in the U.S. at boheme bookstores in Los Angeles and San Francisco. Many in her audiences approached her to thank her for helping them through their grief and feelings of loss.
If you would like more information about this book or to order a copy please write to me directly.
Fiona ... The Fat, Fluffy Feline
A Children's book
Coming soon